Gazebos
Choosing Wood vs. Vinyl Gazebos
|
Shopping for a gazebo may seem easy, but there's actually quite a lot to consider. Besides gazebos that will fit the size of your lot appropriately, you also have to think about their materials. Choosing a wood or vinyl gazebo can have pros and cons, depending on what you're looking for.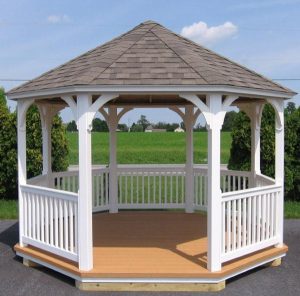 Vinyl Gazebos
This type of gazebo is easy to maintain and really doesn't require much maintenance. The biggest thing you'll need to look out for is vinyl that becomes brittle or cracks with age. You can still replace some sections of the gazebo if needed, but it may be a bit harder to do than wood.  You don't need to repaint or restain vinyl. It's also very easy to clean with a hose or pressure washer.
Wood Gazebos
This gazebo type needs repainting or staining every few years, but it is designed to last a long time. It's also easier to fix sections of the gazebo should it become damaged or weak. Wood gazebos don't become brittle with age, but they do still need checking every now and then to make sure that they maintain their structural integrity.
In terms of price and longevity, both gazebo types can be on par with each other. It's really up to you on the style of gazebo that you prefer. When you're ready to make your purchase, let GazeboDepot.com help with our vinyl and wood gazebo selection!