Gazebo Depot
We partner with the best Amish craftsmen to bring you the highest quality outdoor Gazebos, and Gazebo Kits, Pavilions,Pergolas and Arbors in Wood,Vinyl and Fiberglass. We also carry outdoor furniture to bring it all together and transform your backyard into a beautiful oasis for you and your guests to enjoy.
Need more space? Our Gazebos and Pavilions are available in larger sizes and shapes perfect for corporate gathering areas such as parks or recreation centers .
Gazebo

Pavilions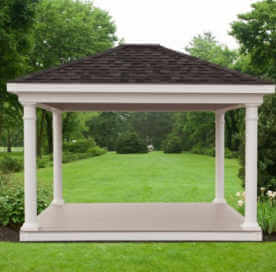 The Classic Pavilion includes 6/12 Pitch Roof,Wolfdeck Floor, 8" Round or Square Columns, No Braces,Double 2x8 Headers,Architectural Asphalt Shingles w/ a T&G Pine Underlay,No Cupola.Mounting Brackets and Hardware included if ordered w/o Floor. Please call for shipping quotes.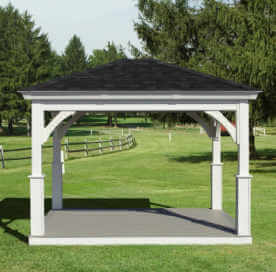 The Standard Vinyl Wrapped Pavilion has a 5/12 Roof Pitch,6x6 Wrapped Posts, Standard Corner Braces,Double 2x8 Headers,Asphalt Shingles and the Floor! If ordered w/o the floor we will deduct the price of the floor and include mounting brackets and hardware for assembly.Square Columns only on this Model.
Please call for Double Roof Pagoda Pricing

#GazeboDepot


SHOW OFF YOUR GAZEBO

Tag #GazeboDepot and mention @gazebodepot to show us some love Gazebo Depot.