Pavillions
Wooden Pavilions Offer Simple yet Sophisticated Backyard Relaxation
|
You have an ample but vacant backyard. The grass is perfectly manicured, you have just the right amount of tree shade in the afternoons, and the area is relatively secluded from the view of neighbors. You know you want to add something to this empty space, but you're just not sure what it should be, and you don't want to make the wrong decision and waste thousands of dollars.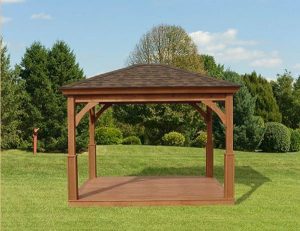 The next time you find yourself pondering all this, consider what a wooden pavilion from Gazebo Depot might add to your uninhabited yard. A pavilion may not have been your first thought when it comes to backyard structures. A gazebo or swing set probably occurred to you first. You may even associate pavilions with public parks and wonder what use you could possibly make of your very own pavilion.
Gazebo Depot's simple but elegant wood pavilion adds a tranquil oasis to your backyard. Its floor platform, four posts, and sloped, shingled roof separate the space from the rest of your yard, inviting guests to seek solace there for a picnic lunch or a relaxing game night on the lawn. You'll feel safe and relaxed in the sturdy pine structure, protected from rain and the hot sun. A few pieces of Gazebo Depot's rustic wooden lawn furniture will finish off your pavilion décor.
You may even want to keep your pavilion relatively empty and instead place it along a path in your garden. There, you can stop and enjoy your flowers and other plants under the pleasant cover of your pavilion roof. Whatever your specific desires may be, Gazebo Depot's pavilions can add a touch of class to those wide-open spaces on your property. Customize and order your wooden pavilion now from Gazebodepot.com.