Outdoor Living
Rustic Plants & Decor to Place Around Your Log Gazebo
|
A log gazebo can pair perfectly with a log cabin or any other rustic-looking structure, but landscaping can be a bit tricky. You want to maintain that casual country look by choosing plants that make you feel transported to a quiet retreat every time you step out into your backyard. You also want to choose decor that offers the rustic chic look you're going for! Here are a few tips to landscape around your log gazebo perfectly: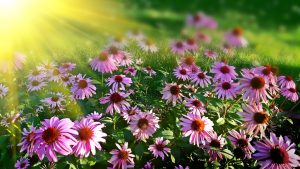 Old is New Again: Embrace antiques by including reclaimed wood posts, slightly rusty metal gates, vintage wagons, wagon wheels, or even old farm equipment in your landscape.
Planters with Flair: If you're planting in pots or beds, think about adding a touch of country style by planting in galvanized pails or tubs instead of pots. You can also use palette or reclaimed timbers to build raised garden beds or planter boxes.
Color with Wildflowers: Wildflowers add personality to the beds around your log gazebo. Sunflowers, zinnia, nasturtium, yarrow, and cornflowers are some of our favorites – plus they're great for attracting bees, butterflies, and ladybugs!
Add Structure with Shrubs: Anchor your landscape design around your log gazebo with rustic-looking shrubs like cedar, juniper, red twig dogwood, Ninebark, barberry, burning bush, or lilacs that can add seasonal pops of color while maintaining a beautiful structure all year round.
Need to find the perfect log gazebo first? Let GazeboDepot.com help with our selection!