If you spend a lot of time in your backyard, you already know that it's a great space. However, there are lots of ways you can make your backyard into something that truly feels like an escape; your own personal oasis, complete with the features you love. With a little time and a few updates, your backyard can feel like a completely new piece of property.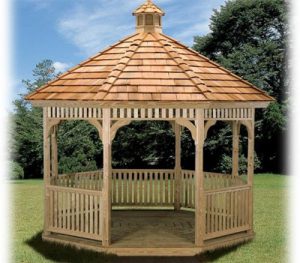 Updating your backyard doesn't have to be a daunting task, though. There are many projects you can complete in your backyard in a weekend or less. Here are some of our favorite ideas:
Add a wooden gazebo. If you're looking to add value to your backyard, think about adding a wooden gazebo for your family to enjoy. At GazeboDepot.com, we make updating your backyard easy with wooden gazebo kits that can be fully assembled and ready to enjoy in a weekend or less. Choose from a variety of sizes and styles, made from pine or cedar.
Repot plants. If you currently have a mismatched collection of pots for your plants, think about repotting into one style of planter to make your backyard look more modern and well-organized.
Add a fire feature. Fire pits or fireplaces can be a great addition to your backyard and they're amazing for entertaining. Designate an area of your backyard to add the fire feature and then add seating. Light and enjoy!

Get more ideas for your backyard today at GazeboDepot.com!